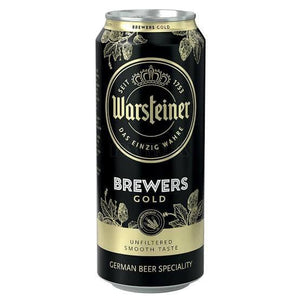 Warsteiner Brewers Gold 500ml Can
It has a smooth and malty taste with hints of honey and caramel while mastering the art of being as refreshing as you're used to from Warsteiner.
OVERVIEW
A balanced and smooth taste, courtesy of Brewers Gold hops, with fine notes of caramel and honey. Naturally cloudy and amber-colored, selected dark and pale malts such as "münchener" and "pilsener" ensure a full-bodied taste.
PRODUCT DESCRIPTION
APPEARANCE: unfiltered beer with intensive amber color and a fine pored creamy white head
COLOR: amber
FLAVOUR: very palatable character of malt
BITTERNESS: balanced, mild
Ingredients Brewing water, BARLEY malt, hops, hop extract, yeast
THEREFROM DECLARABLE ADDITIVES no
potential allergenes according to (EU) 1169/2011 regulation Cereals containing gluten (barley malt)
NOTES
Storage conditions stored in a cool, dark and dry place
Recommend. drinking temp. (°C) 4 - 8
Imported from Germany