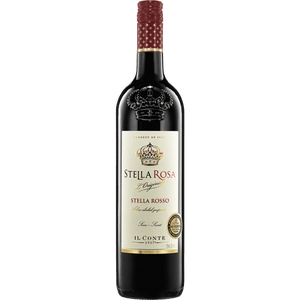 Stella Rosa Rosso, the timeless original Stella, is all about the classics. This semi-sweet, semi-sparkling red wine is the must-have at every and any occasion.
FLAVOR PROFILE
Fresh strawberry, and red berry.
SIZE VARIATIONS
750 ml – Perfect to share with a few loved ones over dinner- or to treat yourself after a long week.


FOOD PAIRING RECOMMENDATIONS
Aged Gouda and Pepper Jack cheeses, spicy pasta primavera with garlic bread, beef enchiladas, chocolate-covered strawberries, cheesecake with berries.