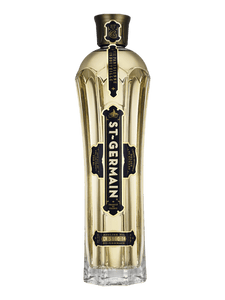 St Germain is an artisanal French Liqueur made from hand-picked elderflower blossoms. The starry white flowers are gathered for a few fleeting spring weeks by 40-50 men pedalling the Alpen French countryside picking the flowers that will be distilled into this intoxicating nectar. Because of this hand picking process, each bottle of St-Germain is exceedingly special, rare and made only in very limited quantities. The method of persuading the elderflower to give up its prized essence while retaining its one-of-a-kind flavour is a proud family secret. Each bottle is individually numbered reflecting the year in which the flowers were picked.
Blended with a small amount of citrus and natural cane sugar to accentuate the subtle flavour of the elderflowers, the resulting liqueur is delicate and balanced with fresh floral aromas and flavours. Hints of pear, peach and grapefruit zest are tasted without exactly tasting like either. The flavours are subtle, delicate and captivating. This all natural product is made from 100% fresh, handpicked elderflowers, and has no preservatives. It has a very low sugar content, roughly half that of other liqueurs.  
Enjoy this delightful drop on the rocks, mixed or in a fabulous cocktail. Either way it's guaranteed you will be indulging for more.
20% ABV