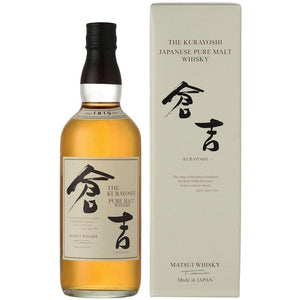 The Kurayoshi Pure Malt Whisky is an original Japanese Whisky produced by Matsui Distillery. The distillery is located on the coast of Tottori Prefecture - in the southern part of the island of Honshu - well known for its sand dunes. The whiskies produced by Matsui are distilled from pure spring water from the Daisen Mountains. Matsui's production is small and artisanal, and available stocks of Kurayoshi Whisky are very limited. This makes this collection particularly sought after and precious. Aged for more than 3 years in ex-bourbon white oak casks.
TASTING NOTES:
-Color: It presents itself with a soft amber colour.
-Aroma: The nose is perceived seductive and refined, with hints of sultanas, vanilla and malt.
-Taste: In the mouth it has a soft and refreshing fragrance of barley malt accompanied by sweet and sour notes of rum sultanas, malt and vanilla. The light finish is a reminder of the pure Tottori spring water used during distillation.
HOW TO SERVE IT:
Unique served neat after a meal served with a dark chocolate stick.