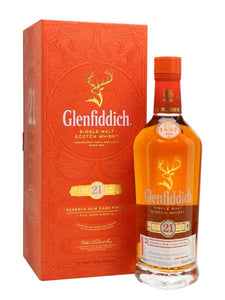 Rich, sweet and exotic, Glenfiddich 21 year old Reserva Rum Cask Finish Single Malt Whisky.
Brian Kinsman Glenfiddich's Malt Master, has been given freedom to add the finishing touch to this 21 year old Glefiddich Whisky. Using Reserva Barrels that previously held their own Caribbean Rum.
Taste Notes:
Colour : Dark Golden.
Nose   : Intense and vanilla sweet, floral, hints of banana, figs, rich toffee, new leather and oak.
Palate : Initially soft, then brisk, vibrant and drying, peppery, a touch of smoke, oak, lime, ginger and spices.
Finish : Very long, warming, dry and spicy.
Award Winning Whisky
International Spirits Challenge Awards. 2015.  
Best Scotch whisky 21 year old and over.
Scotch Whisky Masters. 2015. Master Award.