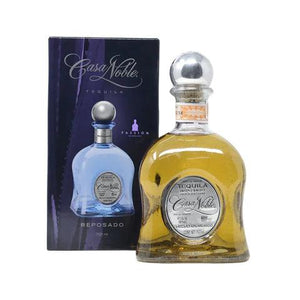 Casa Noble Ultra Premium Tequila Reposado is a premium reposado tequila produced by Casa Noble, a well-known and respected brand in the tequila industry. Reposado tequila is aged for at least two months but less than a year in oak barrels. The Casa Noble Ultra Premium Reposado is aged in oak barrels for an average of 11 months.

The tequila has a deep golden color and a complex aroma, with notes of caramel, vanilla, and a hint of agave on the nose. On the palate, it is full-bodied and smooth, with flavors of toasted oak, vanilla, and a hint of spice. The finish is long and warming, with a subtle hint of smoke and a hint of caramel.

Casa Noble Ultra Premium Tequila Reposado is a versatile tequila that can be enjoyed neat, with a drop of water, or in a variety of cocktails. It has been awarded numerous awards, including Gold medals at international spirits competitions such as the World Tequila Awards and International Wine & Spirit Competition.

The Casa Noble brand was established in 1776, making it one of the oldest tequila distilleries in Mexico. The brand is known for its commitment to quality and tradition and uses only 100% blue agave, harvested at its peak maturity, to produce unique and high-quality tequilas.

Overall, Casa Noble Ultra Premium Tequila Reposado is a must-try for any tequila lover looking for a high-quality, complex, and well-balanced reposado tequila. With its rich flavor profile and smooth finish, it is a perfect choice for sipping neat, on the rocks, or in a cocktail.