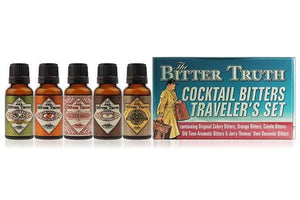 The Bitter Truth - Cocktail Bitters Traveler's Set can be carried in flight hand luggage and therefore is the ideal companion for all globetrotters who won't settle for anything less than perfect drinks during their flight!
Including 5 different flavours in a lovely designed box this kit is also the perfect addition to anybody's home bar.
Tasting Notes: 
CELERY BITTERS: Very complex and exotic. The initial flavour of celery is dominant, leading into a complex palate with aromas of lemongrass, orange peel and ginger.
OLD TIME AROMATIC BITTERS: Classically bitter and tangy. Combining the aromatics of cinnamon, cardamom, anise and cloves, it reminds one of gingerbread.
ORANGE BITTERS: The aroma of bitter orange peel is in the foreground, complimented by the spicy flavours of cardamom, caraway and nutmeg.
CREOLE BITTERS: The complex combination of flavours hints upon spice, bitterness and cardamon with a subtle floral finish that evokes the flavours of Creole cuisine in New Orleans/Louisiana.
JERRY THOMAS: In honour of professor Jerry Thomas, formerly principle bartender at the Metropolitan Hotel, New York , and the Planters House, St. Louis.