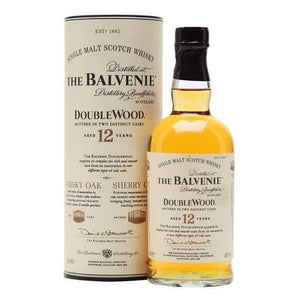 DESCRIPTION
The Balvenie DoubleWood is a 12 year old single malt which gains its distinctive character from being matured in two wood types ~ the traditional casks soften and add character, whilst the sherry wood brings depth and fullness of flavour.
FLAVOR / TASTING NOTES
Nose: Sweet fruit and Oloroso sherry notes, layered with honey and vanilla.
Taste: Smooth and mellow with beautifully combined flavours ~ nutty sweetness, cinnamon spiciness and a delicately proportioned layer of sherry.
Finish: Long and Warming


Alc 40%