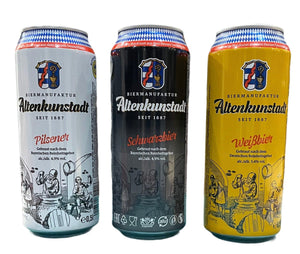 Pilsener beer 4.9%alc
- A slim, Franconian pilsner, brewed with valuable aromatic hops and regional brewing barley. A fine hops note in the initial taste and the finely tart finish round off this beer specialty perfectly.
Hefe Weisbier 5.4%alc
- Yeast cloudy, Franconian wheat beer - fine sparkling. Brewed with their own top-fermenting yeast. For everyone who loves it sparkling and fruity. 
Dark Lager beer 4.9% alc
- The full impenetrable mocha colored appearance with lucent sheen is crowned by a creamy head. The roasted malt aromatic fragrance reminds of dark bread and fresh coffee. The velvety smooth malt flavor shrouded by a harmony of sweetness flows elegantly and cleanly along the gums. the well-proportioned body appears warming and is complemented by a fine bitterness which finishes calm and dry.