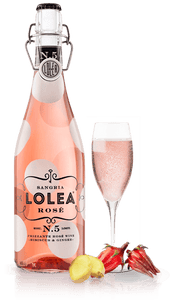 Lolea Rosé is a sophisticated and stylish take on sangria crafted with a blend of frizzante rosé made from garnacha and tempranillo grapes, with hibiscus flower and refreshing ginger natural flavors.
This fashionable rosé sangria is as graceful and refreshing as a white wine with enough of the character and depth of a red wine to please a wide range of tastes.
Lolea Rosé displays an attractive pale pink color in the glass, with a slightly sweet and floral bouquet. On the palate it offers generous fruit flavors balanced by subtle floral notes of the hibiscus and an enticing warmth of ginger, with a refreshingly gentle effervescent finish.
Serve Lolea Rosé well chilled in a sparkling wine flute or over ice in a wine glass. Garnish with twist of lemon, or even better yet, a hibiscus flower!