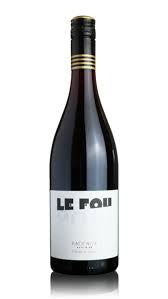 a unique wine from the sun-drenched vineyards of the south of France- displaying intense, sweet berry fruit with a savory twist, combining with soft tannins to deliver a luscious, textural Pinot Noir with a powerful full fruit finish. Le Fou is a wine of class  and distinction reflected in the "handcrafted" approach taken in its creation. 
Region: Boutinot, France
Grape Variety: Pinot Noir
13%Abv
It's a very decent priced Pinot Noir ... easy on the palate easy in the pocket.