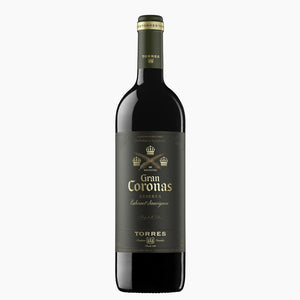 Cabernet Sauvignon and Tempranillo are the grapes that bestow their nobility on Gran Coronas, a wine of a deep red hue, with ochre and brick-red touches from its ageing.

This arose from the innovative drive of Miguel A. Torres, who planted the French variety of Cabernet Sauvignon in the Penedès at the end of the 1960s and early 1970s, when normal practice was to plant local white varieties. Thanks to this, Gran Coronas has become a benchmark for reserva red wines.
Tasting notes:
Dark cherry red color with garnet highlights. Intensely fruity (blueberries, cassis) with delicate spicy (black pepper) and balsamic notes. A balanced and nicely structured palate with ripe tannins well rounded by aging
in excellent oak.
D.O. Penedes.