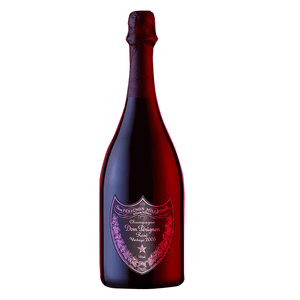 When Dom Pérignon chooses to be rosé, it is a radical declaration of freedom. Freedom to explore. Freedom to cast aside conventions and push the boundaries of creation.
Dom Pérignon Rosé springs from this desire to dare, seizing the red of the pinot noir grape in its primal radiance, capturing its vital power in a bold, assertive assemblage. Tempered by a slow, masterful transformation during nearly 12 years in the cellar, Dom Pérignon Rosé is untamed and carnal, both light and dark, magnetic. Its vibration embraces the thrill of the unknown and is an invitation to explore.
2005: THE THRILL OF PINOT NOIR
Overall, the year was hot and dry, but it was marked by contrasts. The initial enthusiasm generated by a heat wave in August was tempered by rain and cool weather in September. In the end, drastic selection in the vineyard guaranteed a limited volume of exceptional quality, with unprecedented aromatic maturity. The harvest began on September 14.

ON THE NOSE
Tropical notes of guava and curry leaf melt away into more classical ones of zest and very ripe stone fruit. Cocoa and toasted spices complement the whole.

ON THE PALATE
The wine has a bracing vinosity. Its initial richness expands and affirms itself, becoming more physical, powerful and structured. It has remarkable length in the mouth, with a touch of licorice and a backdrop of juicy, bitter blood orange.

FOOD PAIRING
Dom Pérignon Rosé 2005 is extremely physical. This tactile sensation reveals itself through a fresh acidity, grainy tannins and sappiness. The vibrant structure of the wine is unveiled when accompanied with seafood such as an elegant langoustine paired with hummus or with a devilled egg, Prunier caviar and raw asparagus salad. Paired with meat, for instance a charred Waygu beef sashimi with chilled spiced turnip greens, Rosé 2005 offers its smoky minerality up front.