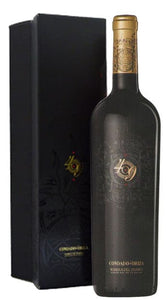 In the last 30 years, the Denominación de Origen Ribera del Duero has emerged to challenge the crown of Spain's greatest wine region; Rioja. Located in Spain's northern plateau, this region covers four Castile and León provinces – Burgos, Segovia, Soria and Valladolid. But, despite what its name may suggest, Ribera del Duero does not cover all of the villages along the River Duero. Ribera del Duero was granted its Denominación de Origen status in 1982 and today it has over 250 wineries and over 22,000 ha of vineyards. Most of Ribera del Duero's production is red wine and only a moderate amount of rosé is produced. No white wines are permitted under the D.O. yet, but they will be soon. The region is characterised by its largely flat, rocky terrain.
Taste Notes
Bright ruby red with touches of violet. Aromas of blackberries and blueberries with subtle notes of toast and spices from the oak barrels. On the palate, plenty of soft round tannins, a well-integrated acidity and complex. A very well balanced wine and a persistent and pleasing finish.
Food Pairing
Wonderful accompaniment to roast lamb, spinach and meat croquettes, suckling pig and beef chops with pepper.